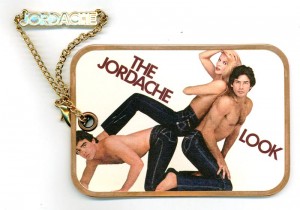 Some of you have read about the lawsuit we filed on behalf of actor Jack Scalia against Jordache in the United States District Court in New York. For those of you who have not, here's the back story.
Before embarking on a successful acting career spanning several decades, Jack Scalia was one of Ford's Models top male models back in the '70s and '80s. In 1979 he was featured in a huge consumer campaign for Jordache.  Those of us old enough to remember that era, can sing the jingle and recall the phrase, "The Jordache Look".  (The phrase is trademarked by the way)  If you have forgotten it, YouTube features a buffet of the Jordache TV ads.
Our filed complaint alleges that without Jack's authorization, knowledge or consent, Jordache employed his image in a "new" retro campaign for, you guessed it, "The Jordache Look".  Using thirty year old photos from the original campaign, we allege that Jordache recycled the image, put it on product hang tags and attached it to apparel selling in stores like Macys, TJ Maxx, Nordstroms, Urban Outfitters and so on.  Use of the photo on hangtags was made in countless states including New York.  We have requested that Jordache produce as per New York Law, a model release, contract or voucher signed by Mr. Scalia authorizing this use.  To date no such "written permission" has been produced.
It is incumbent upon any advertiser under New York law (and the laws of many other states as well) to obtain and retain a signed writing clearly demonstrating a person's consent to the use of their image, photo, portrait or likeness for use in connection with the advertising or promotion of a product or service. In New York, the specific law is called "The New York Civil Rights Law".  Sections 50 and 51 provide that an aggrieved person (who need not be a professional model or celebrity) may obtain compensatory and/or punitive damages for such unauthorized use.  A court may issue an order directing that all use cease or that usage be physically taken out of the stream of commerce.  In plain English – get the image out of the stores ASAP.  Under certain circumstances, such unauthorized usage may even constitute a misdemeanor.
At our seminars and lectures Jack Reznicki and I answer more questions about model releases than any other topic.  We have one DVD solely on the subject. A chapter in our forthcoming book deals with nothing else but.  Neither of us can count the number of posts or columns we have written or questions we have answered about model releases.
One thing we continually talk about "till we're blue in the face" is that model releases are forever.  Do not throw them out even if another professional, like your accountant suggests you do.
We have had other cases where, just like this one, an "old" image was re-cycled for a new campaign for the very same product – or – used in a campaign for an utterly unrelated product.  Sometimes the advertiser hopes it will go unnoticed and is aware that there is no authorization for a particular use. Sometimes the permitted term of use has expired and the advertiser doesn't want to find or can't find the model.  Even model agencies go out of business.  Sometimes the advertiser doesn't know the law or has scanned the image from somewhere else. In still other cases someone is just trying to avoid paying a model a fee.  Sorry to tell you gang but the world is full of such people.
For these reasons and many others, smart photographers, clients and ad agencies know it is good practice to keep what some call a "job jacket" – forever.  In that folder all model and property releases as well as the license(s) for use of the photographs themselves are kept. By simply referring to the contents of the job jacket, the agency and/or client will instantly know whether it can employ a given image and if so, for what product, for how long and in what media.
Take a look in that boring manila folder. No written license for the photograph?  Could be a copyright infringement case in the making.  No model release?  Could be a Federal or State lawsuit for invasion of privacy or violation of the right to privacy.   Simple checking of routine, signed forms keeps the big bad lawyers at bay.  Photographer, ad agency and client all get to sleep snug in their beds.
As a photographer, never count on anyone else to hold these releases and forms for you. Jack Reznicki always keeps all the original releases and provides his clients with copies. The ad agencies and clients go out of business, but the rights never die.
Remember that it takes less time to actually get a signed model release than to think about whether you need to get a model release.  Once obtained, the release like a diamond is forever.
Edward C. Greenberg