Andrew Paul Leonard is a photographer and one of Ed's clients.  Mr. Leonard is also an electron micrographer. Shooting through an electron microscope he is one of the precious few professional photographers in the world who can both use scanning electron microscope and then create color images of stem cells.  The black and white image shot by Mr. Leonard is digitally "colorized" by him to make the best possible representation of that cell's appearance in nature.  His scientific training enables him to perform this rather unusual task.
Below is Mr. Leonard's most famous image appeared on the cover of Time Magazine.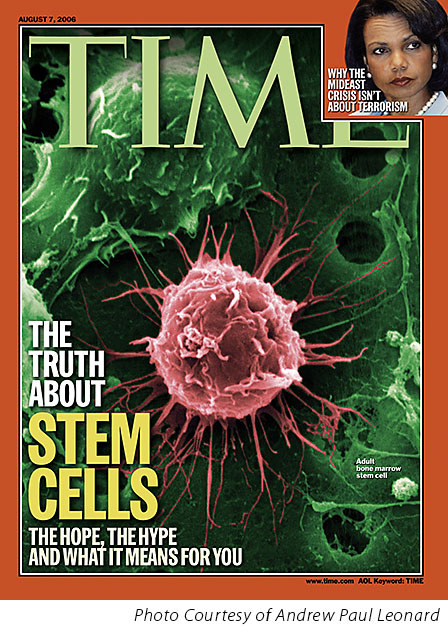 His images were used by Stemtech Intermational, Inc.. (a Delaware company)  which published the images on various websites and affixed a copyright notice indicating that the registration was held by Stemtech.

Rather than just bemoan his fate, Mr. Leonard commenced  an action in the United States District Court For The District of  Delaware (08-067-LPS-CJB).  His trial attorneys (James S. Green and Jan I. Berlage) sought money damages under the Copyright Law for direct, contributory and vicarious infringement. The Time Image along with another photo were the subject matter of this litigation.
After very extensive motion practice and a vigorous defense posed by the defendant's lawyers, the matter was finally tried before a jury by Messrs. Green and Berlage. That trial concluded on October 11th at which time the jury rendered its verdict after just 1 hour of deliberation.   The jury found that the defendant had (among other things) intentionally violated Mr. Leonard's registered copyright.  It  awarded Andrew 1.6 million dollars.
The above is the unvarnished truth which we (uncharacteristically) present to you in a clinical fashion. This is a sample of a real life case and of what a jury can do in an infringement matter when presented with the facts.  For those of you who still elect not to register all of your works, all of the time, without exception our only remaining suggestion is that you not let your spouse or children ever see this article.
Mr. Leonard registers his work and pursues those who elect to infringe upon his rights. By so doing he has been justly rewarded for defending his rights.