The bible warns, "beware false prophets". As we like to rephrase it, beware some lawyers as false prophets, as they will diminish your profits.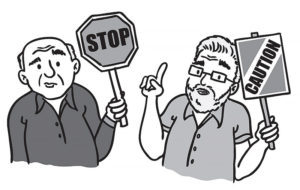 Our story starts with Ed suing a stock agency on behalf of a photographer who claimed that he/she had not been paid nor received royalty statements. (Something he has done too many times to count.)
The stock agency and its owner in his/her individual capacity were sued. The photographer agreed to accept a sum of money to satisfy his/her claims at an early stage. The stock agency owed the photographer money and statements. There was no dispute by the stock agency that they owed the plaintiff. There was a meeting of the minds and both parties settled for a sum of money to be paid to the photographer. Great, until the stock agency failed to make the payments owed on time. The Court then entered a judgment against the stock agency for failure to make such payments as required by law. The collection process is now under way against the operating stock agency.
That's all the background you need to know for now. The stock agency is required to pay a court judgment filed against it in the County Clerk's Office and the Court and now faces any/all of the collection procedures we set forth in our recent "On Collecting" article. There are some other legal collection techniques beyond our article, which frankly Ed does not make public lest they lose their effectiveness.
Why the big backstory? Well the attorney/firm who represented the party that has to pay up has not done many (if any) photo cases. So to induce potential clients to engage their law firm, the law firm's website highlighted for some time that they were (and we quote):
"* Defending photography agent against claim for royalties (Court and Filing Number)"
 Looks and sounds catchy, doesn't it? Except that while they did defend said "agent", the stock agency, they lost dreadfully, horribly, and severely. But truthfully, if you had a similar problem you might be tempted to call this firm and ask for that lawyer to give you a consultation. After all he's advertising that he's defended such a case. Such advertising could even attract more of this type legal business of which the firm currently does little or none. Has the firm removed the statement in light of being on the losing side? Nope. We have left off the name and number of this case, even though it's a public record, at least for now we will.
Here is a classic example of law firm's advertising implying or advertising expertise in the middle of a case in which the "other side" got what it wanted. If a viewer did not know the outcome of the case he/she could be mislead into thinking that this firm regularly handles this type work and at least performed some legal services of which it ought be proud.  It is very rare that an attorney advertises that he/she has lost an otherwise routine case, which has had no publicity nor would likely ever draw any.
Bottom line is that their client, the stock photography agency had a judgment rendered against it requiring it to pay the photographer monies due plus penalties for failure to pay on time. Not likely the outcome they wanted when they engaged that lawyer.
So how can you protect yourself from such lawyer advertisements? Be skeptical; ignore boasts on attorney websites, as they are no more reliable or accurate than that infomercial that keeps running at 3AM. Rather than the magic elixirs that grant everlasting, pain free life, or will make you look like a young Arnold Schwarzenegger without exercising. These ads offer the illusion of experienced representation. As we've stated before, do research when hiring a lawyer, ask for references, look into the results of their cases, not just the name of the case. You don't want to hire the team that hasn't won a game in years. Just suiting up and appearing in a game may not be in your best interest.
We previously wrote 10 points to consider before hiring a lawyer, in a piece titled "Better Beware Before Calling Saul" which you can find here. If you haven't read it, or even if you did, it's well worth reviewing.